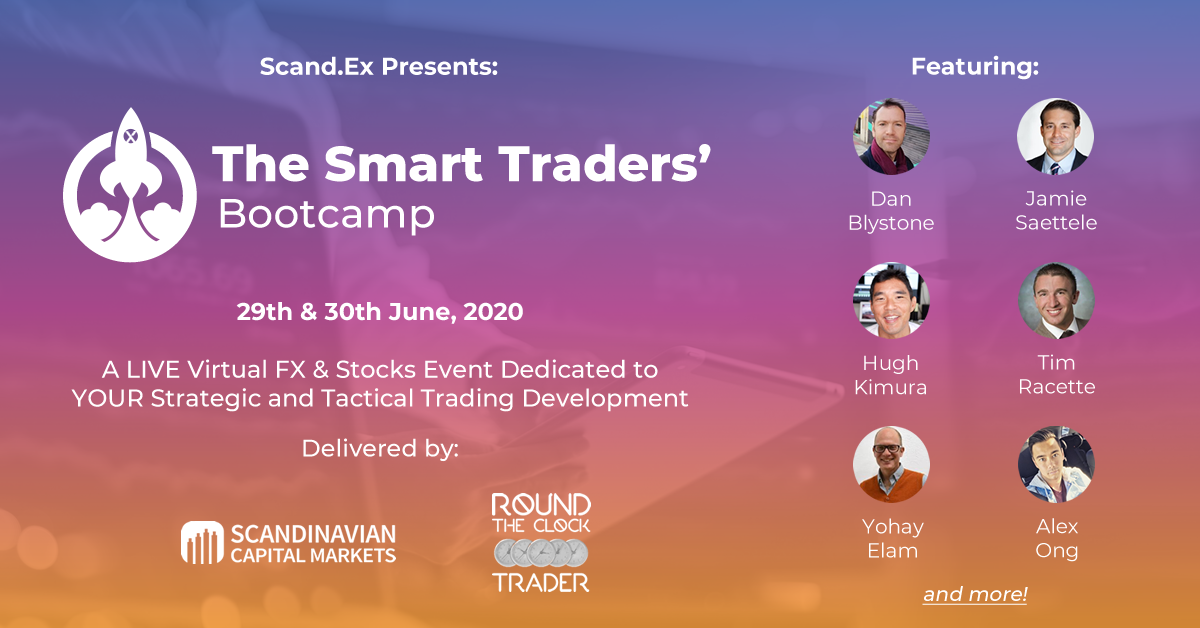 June 29th and 30th 2020 witnessed the first Scand.Ex Smart Traders' Bootcamp event which was jointly delivered by Round the Clock Trader and Scandinavian Capital Markets.
Back-to-back trading lessons from a selection of high calibre trading educators helped over 800 traders improve their approach to trading the financial markets by learning skills for analysing price charts, managing risk and also creating positive and realistic mindset for consistent trading returns.
The impressive line-up of speakers included Hugh Kimura (Trading Heroes), Steve Ward (Performance Edge Consulting, Charlie Burton (Ezeetrader), Alpesh Patel (Trading-Champions), Walter Peters (Naked Forex Now), Yohay Elam (Forex Crunch & FX Street), Adrian Buthee & Jerry Miller (Trendsignal), Simon Massey (TradeRoomPlus), Adrian Slack (Intelligent Trading Academy) , Alex Ong (Alex-ong.com), Jamie Saettele (Scandinavian Capital Markets), Dan Blystone (Scandinvian Capital Markets) and Tim Racette (Eminimind.com).

"We understand the struggle to succeed at trading. You are not alone! This is why Scand.Ex and Round the Clock Trader assembled an elite group of trading professionals to take your performance to the next level", said Michael Buchbinder, Managing Partner at Scandinavian Capital Markets.
"This event presents an exceptional group of speakers. You learn at your own pace and interact with leading experts in their fields", said Dan Blystone, Chief Market Strategist at Scand.Ex.
About Scand.Ex
An online learning portal built by professional traders for traders – a flagship trader's portal empowered by Scandinavian Capital Markets, a true STP-ECN Forex Broker based in Stockholm, Sweden. The portal features daily trading analysis by world-leading traders and analysts, interviews with trading industry thought leaders, guest blogs from independent traders, a chat room with mentors, trading educational events, and seminars calendar selected from leading educational sites.
About Round the Clock Trader
A community of traders learning and exchanging knowledge and tips for generating wealth. The community provides lively, educational events and shows by real traders in the markets everyday trading stocks, forex, commodities and indices. It features a daily trading room experience and one-to-one coaching for those looking for a premium service.
Get involved with the next event!
The next Scand.Ex Smart Traders' Bootcamp takes place over 3 days (16th, 17th & 18th September 2020) to accommodate even more fantastic speakers and guest traders.
For speaking opportunities, sponsorship and other media enquiries please contact [email protected]
To register your seat to attend the event please click here