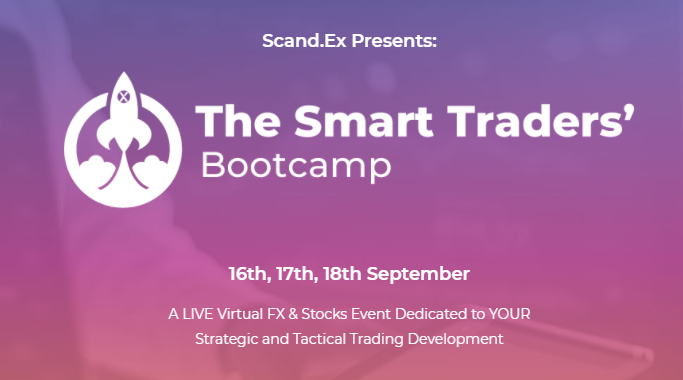 The successful launch of the Scandex Smart Traders' Bootcamp event in June 2020 has led to organisers (Round the Clock Trader & Scandinavian Markets) inundated with proposals from speakers to participate in future events. In light of this, the event has added an extra day to the schedule for this month starting on Wednesday, 16th September and ending on Friday, 18th September.
"We understand the struggle to succeed at trading. You are not alone! This is why Scand.Ex and Round the Clock Trader assembled an elite group of trading professionals to take your performance to the next level", said Michael Buchbinder, Managing Partner at Scandinavian Capital Markets.

The 3 day virtual trading summit includes educational tutorials and workshops, demos of the latest tools and services for traders, by traders. The speaker line-up includes some of the world's greatest trading educators and coaches.
Round the Clock Trader's Simon Campbell says "This new collaboration with Dan Blystone at Scandinavian Capital Markets has really supercharged the event and brought on board a wealth of new speakers and partners from around the globe - I'm excited to be moderating again and we're expecting around 2000 traders to join live again with good engagement."

Dan Blystone, Chief Market Strategist for Scandinavian Capital Markets says "This event presents an exceptional group of speakers. You learn at your own pace and interact with leading experts in their fields"
The Smart Traders Bootcamp marks the launch of Scand.Ex (Scandinavian Exchange) – a learning portal made by professional traders for traders.
World-leading experts in trading strategies, psychology and market analysis come together in this unique online event starting 16th September 2020.
Speakers include Jamie Saettele, Yohay Elam, Steve Ward, Dan Blystone, Abe Cofnas, Tim Racette, Alex Ong, Adrian Slack, Raman Gill, Roy Levine, Ray Barros, and many, many more.
Click here for a full agenda and registration - https://attendee.gotowebinar.com/register/2498480053565287695?source=press
About Scand.Ex
Scand.Ex is an online learning portal made by professional traders for traders powered by Scandinavian Capital Markets, a true STP-ECN Forex Broker based in Stockholm, Sweden. The portal features daily market analysis by world-leading analysts, interviews with trading industry thought leaders and more. For more information check the link.
About Round the Clock Trader
Round the Clock Trader is a community of traders learning and exchanging knowledge and tips for generating wealth. The community provides lively, educational events and shows by real traders in the markets everyday trading stocks, forex, commodities and indices. It features a daily trading room experience and one-to-one coaching for those looking for a premium service. For more info check the link.