A Trend Following Investment Strategy That Works - Zaheer Anwari, Co-Founder, Sublime Trading
This workshop will train you on how to build a profitable portfolio with a long-term investment style approach to the forex, stocks and commodities markets using a trend trading process that is more suited to you, the private investor. 
Zaheer will be covering the techniques he uses to define his edge that has helped him generate over 300% since 2017 as shown in his verified trade log and that he applies across all the markets. 
This includes:
- using the correct multiple timeframes
- identifying support and resistance levels 
- applying moving averages
- applying patience for your edge to appear
- understanding good risk management principles
Zaheer will also be covering how he uses the indices, particularly the S&P 500, to guide him in his stock trading decisions which helps blocks out all the news and opinions that hinder retail investors daily from making solid investment decisions. 
This is a must-watch for newbies who want to cut out the clutter and get straight to the correct principles for the retail investor and also for the more experienced who want to improve their investment performance.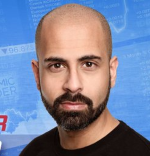 About Zaheer
Zaheer is a full-time trader, mentor and co-founder of Sublime Trading, a global community for the private investor trained to use proven trend trading principles. He comes from a background of Software Engineering, teaching English as a foreign language and high-end advertising photography changing career choices in search of a deeper level of fulfilment.
As this failed to materialise, he turned to using a trend trading process primarily as a means of removing the banking system through a low-risk approach that could at first be easily adapted around his then busy lifestyle and not the other way around which is one of the many struggles of day trading and then ultimately as a way out of the 9 to 5 altogether. 
He started investing in the forex, stocks and commodities markets in 2007, went full-time in 2011 and has since built a reputation as a guest speaker in the public domain as an advocate of the longer-term approach for the private investor. Zaheer has also been invited to contribute to a number of publications including FX Trader Magazine, FX Street, The Huffington Post and most recently, investing.com.
When he first started out, Zaheer says it was simply about becoming far more financially literate and making smarter investment decisions. In turn, what that has given him is the ability to live life on his terms. Apart from enjoying running Sublime Trading and helping others achieve their own financial goals, in his spare time, Zaheer says he loves travelling, is a petrol head and a bit of a gym junkie. Health is wealth after all.