Learn to invest from one of the best. Join Alpesh Patel at his unique investment school in Spain for two days of investing education and hands-on sessions.


For traders and investors - beginners to total experts. With ample time for 1-2-1 with Alpesh.
Alpesh Patel's Great Investments Summer School is the most comprehensive investment and trading event you'll ever attend.
It's a deep dive into investing and trading, with personal attention from Alpesh and ample time to learn from him over two fantastic days.
Gain investment experience at a whole new level with Alpesh Patel's Great Investments Summer School.
Alpesh's one-of-a-kind course is an amazing opportunity to pursue your investments or trading dreams.
Please note places are limited and we expect to full so please call us soon to discuss.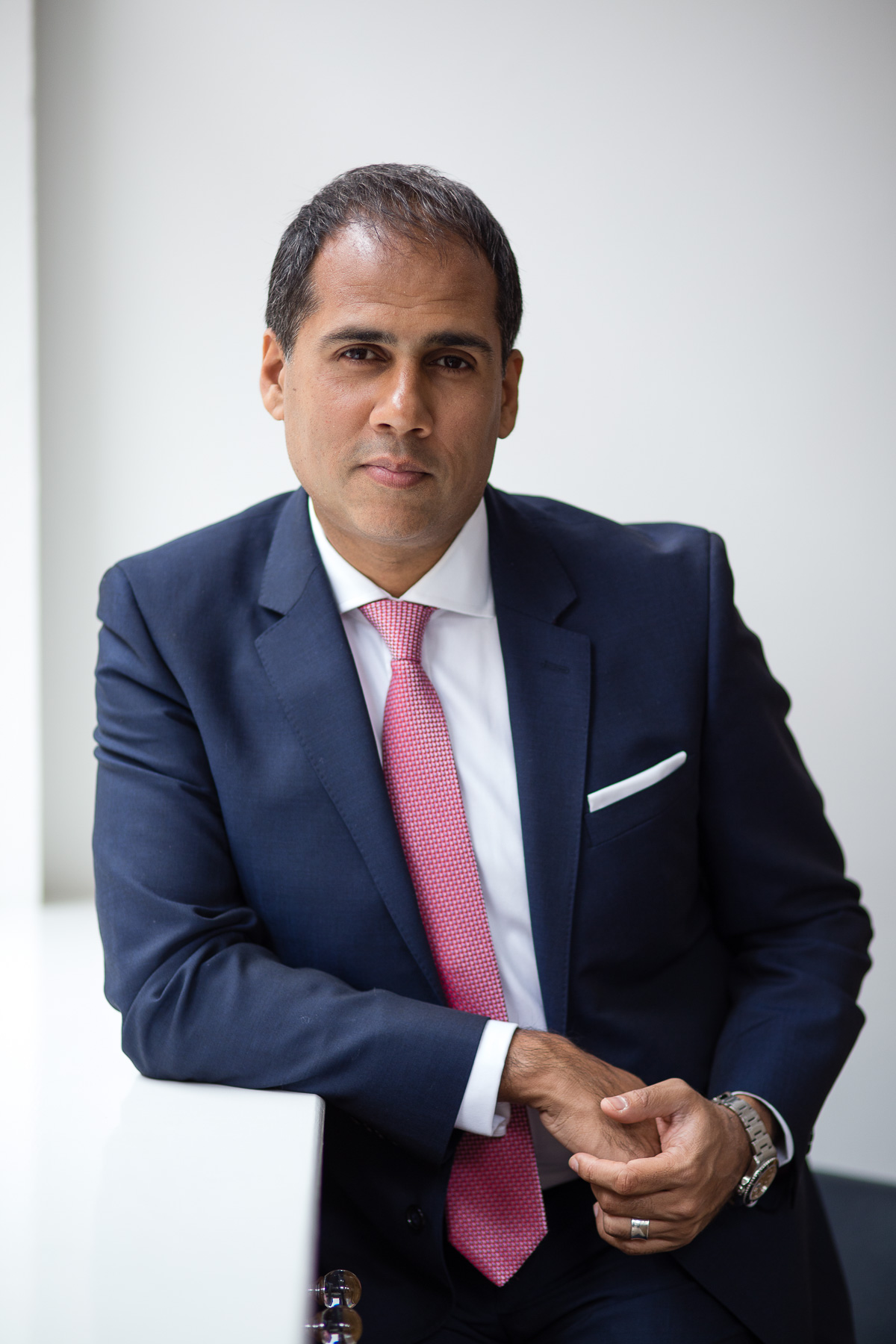 About Alpesh Patel OBE
Alpesh is one of the most successful investor and entrepreneur mentors in the world. Pursuing a mission to teach people to make money to solve big world problems.
Over 300m see his BBC Paper Review. Find out why he is flown globally to speak to thousands of people annually. Portfolio includes Rothschilds, Bloomberg, Financial Times, Barclays, Lloyds, UK Government, Oxford University, Merrill Lynch HSBC, American Express, Goldman Sachs.

A professionally trained world-class global speaker/host, TV presenter.
CEO in Asset Management. International Bestselling Author. Financial Times and Bloomberg TV Alumnus, former Visiting Fellow in Business, Corpus Christi College, Oxford University, BBC Paper Reviewer. UK Government Dealmaker, Department for International Trade. Barrister. Co-founder, UK Chapter of the World's Largest Entrepreneurs Mentoring Organisation (TiE.org). OBE for services to the Economy and International Trade.

To this day Alpesh remains in more high demand than ever, appearing weekly on the BBC, Reuters, CNBC with his views on the markets, and being flown around the world to speak to audiences from India to Thailand, China, Singapore and Hong Kong.
Consequently, given the huge demand for his trading education and with a business to run, Alpesh set up online education courses to meet demand.


Reasons Not to Miss this LIVE in-person event
2 Days Personal Tuition from One of the World's Best Investors
​​​Important Trading Opportunities 2023
A trading business plan and strategy shown in simple steps to achieve our goals and why 70% lose money trading and become gamblers
Simple Strategies Work the Best
The best in the world at what he does; used by Bloomberg TV with his own show and Financial Times with his own column 'The Diary of an Internet Trader', Alpesh will explain the simpler strategies for profits and show you them live on screen.
Learn from a CEO and Leading Traders
Alpesh uses his own expertise as CEO of Praefinium (a hedge fund) and from the leading traders of the world who are part of his autobiography - 'The Mind of a Trader' - so good that the Financial Times published it
Free Trading Business Plan and Strategies
Message from Alpesh:
"I'm going to Spain!

Spain is a great place for a summer holiday, fantastic weather and the sun, but it's also a terrific destination for so much more.

Come with me to take part in a two-day deep dive into my investment strategies and methods in a beautiful hotel by the seaside.
You'll learn from someone you can trust, pick up some new skills and make yourself some great friends for life too - including me!".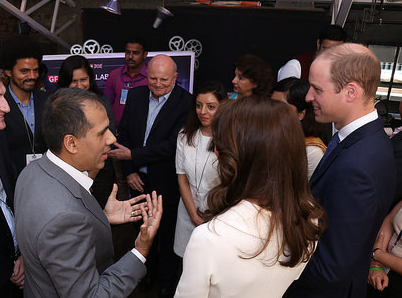 Day 1 - How to Build Wealth With Great Investments
Welcome and Introductions
• Why are we all here?
• Why do you want to invest?
• How do you currently invest and trade?
• Why am I qualified to teach you?
• What you will learn over the next two days
• How and why we've designed this course for investors and traders
Part 1 - To be a Successful Investor, think like a Billionaire Investor
• What the Biggest Hedgefunds Own and Why?
• How I use what the billionaires own
• Lessons from billionaires that will make you rich
Morning Coffee Break
Part 2 - Best Methods I Use to Pick Stocks that will Perform
• Refining a process for investment decision making
• Why combining Fundamentals with a simple chart increases returns
• What's in My Portfolio & SIPP
• Where I Get the Reports of What Goldman Sachs Are Pitching to Clients
• Market Insight From Goldmans, Hedge Funds
• Growth v Value v Cash-Flow v Momentum
• Themes vs Market Cap vs Geography
• When to Use ETFs and Which Ones
Lunch
Part 3 - Why I Also Make Money Active Trading
• Why Billionaires Do Momentum Trading
• A Scientific Approach to Trading
• Cheat Sheet on Placing Trades
• How to Make Money Infogram
• When I Use Options Trading
• How I Decide to Do a Leveraged Trade with CFDs or Spreadbets and How I Don't Get Wiped Out
• The Greatest Hedge Fund Managers' Lessons I Learnt
• Raising Money from Friends and Family
• The Biggest Family Offices to Pitch for Capital
• How to Set Up a Hedge Fund
• How Long to Get Rich
Part 4 PRACTICAL SESSION
• Live Trading US Open / Class Trading Excercises
• Best Assets for Trading? Stocks vs Forex vs Crypto vs Commodities
• Best Timeframes and Strategies for Trading
• How to Find a Trade setting up and understanding the trends
• When to Enter and Exit
• Setting Stop losses and other Risk Management tips
Afternoon Tea Break
Part 5 - Trading Tips, Tools and Resources to Save You Time
• Websites I Use to Keep an Eye on Meme Stocks
• How Screen and Filter for the Best Stocks
• How Screen and Filter for the Best
• Our Latest Research and Stocks I Just Bought Which I Think Will Generate 40% this Year
• How to Work Out Fair Value Based on Inflation and Prospects Easily
• All My Favourite Secret Cheat Sites of Information (10!)
• How I Cheat to Research and Replicate the Portfolios of the World's Best Investors
Part 6 - Review of Day 1 Modules
• Questions and Trade Review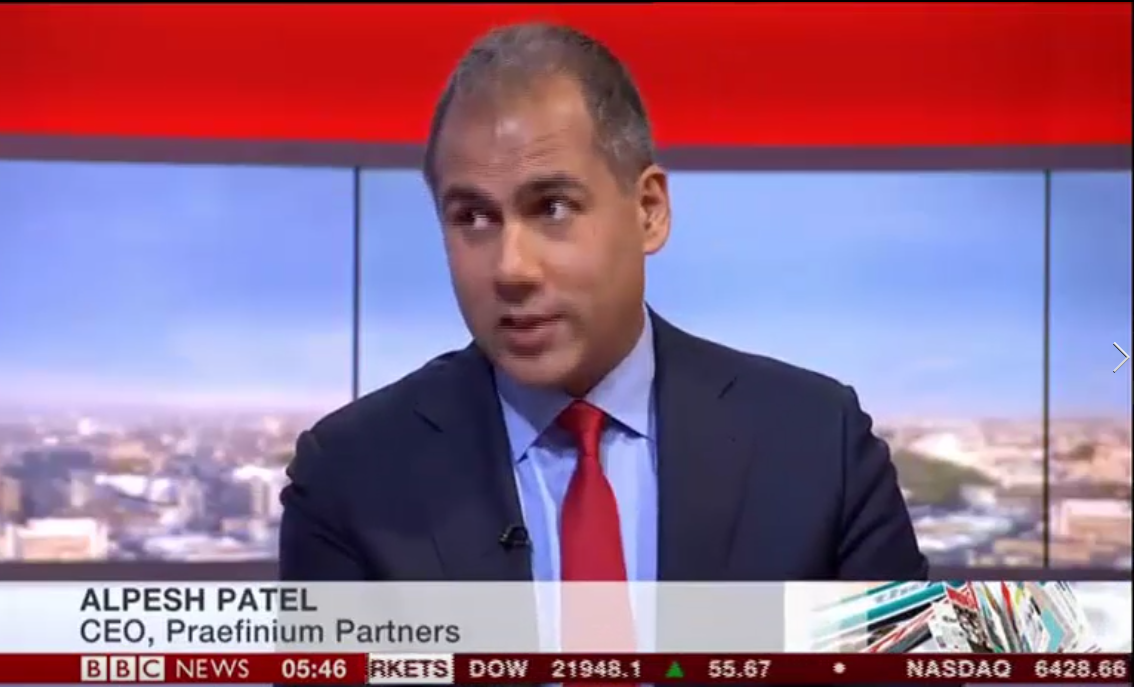 Day 2 - Refining the Systems, Managing the Risks
Part 7 - PRACTICAL SESSION
• Trade Review of Any Open Positions
• Group Discussion on Next Steps
• Scans for Today's Trades and Why?
Part 8 – Building Your Investing System
• My Favourite Stock Screeners for Finding Stocks Quickly
• Excel Spreadsheet of My Current Approved Filtered List For You To Keep
• How Not To Overcomplicate Your Investing
• Reports from Goldman Sachs, UBS, JP Morgan and more on the Markets to Take Away
• What Works in Investing Research Report to Take Away
Morning Coffee
Part 9 - Trading Psychology
• What My Oxford University Lectures and TED Talk on Trading Psychology Taught Me About Making Money
LUNCH
Part 10 - PRACTICAL SESSION
• Trade Review of Any Open Positions and Possible Profit taking?
• Group Analysis and confirmation
• Scans for Future Trades and Why?
Part 11 - Trading Mistakes to Avoid and Solutions
• Over-Leverage and Why People Lose Money
• Free Software and Other Tools
• Automate Grunt Work
• My Go To Websites and Data I Can't Live Without
• Simple Process for Trading; Entry, Stops and Rules of Hedge Funds
• Simple Business Plan for Trading
• Broker List on the Best Brokers
Afternoon Tea Break
Part 12 - Putting It All Together and Into Action!
• Have I Changed Your Mind on Investing?
• Where I think the markets will end 2022
• Why I'm not worried about wars, cost of living and inflation
• My 5 Rules for Making Money
• Final Trades Review

Your Hosts
This exclusive event is hosted by Alpesh Patel OBE, and Simon Campbell, Founder of IX Media.
During the event you will be met and welcomed by Simon to ensure you have everything you need to make your experience as rewarding and enjoyable as possible.
Simon knows Spain well and is available to help you with planning travel and accommodation and any other queries regarding the event.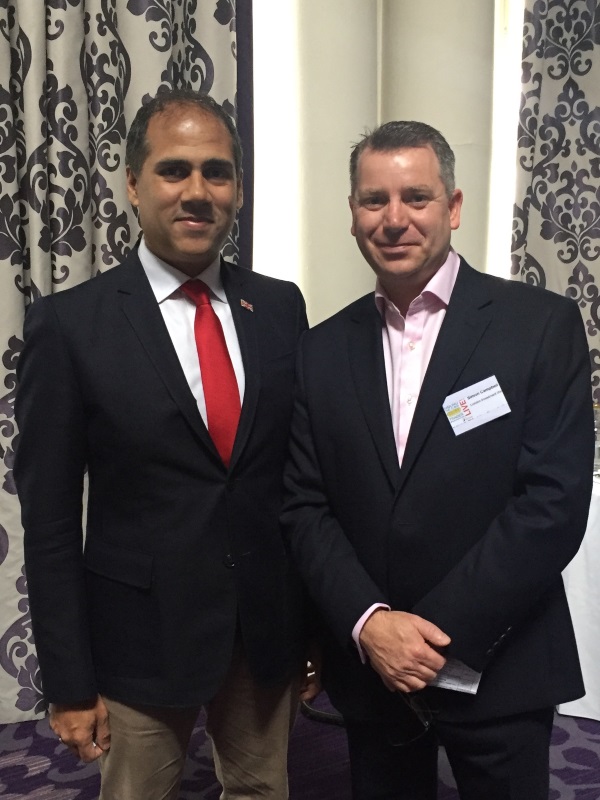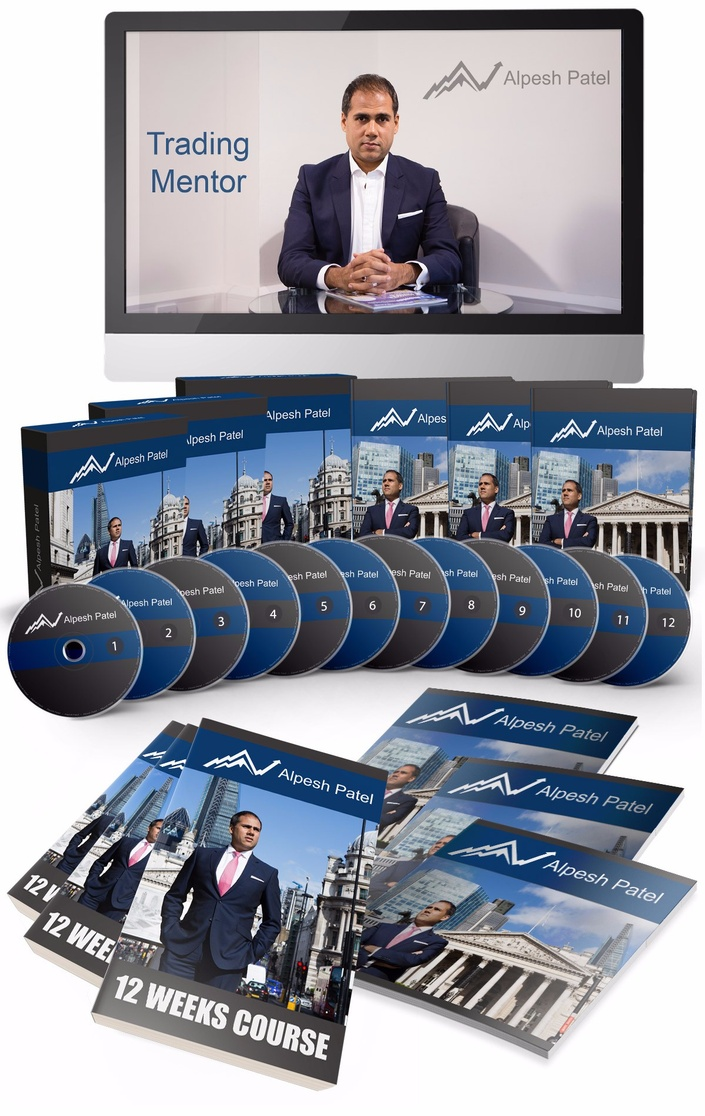 30 Day Home Study Course (worth £997) included FREE for every attendee to continue learning at home the live 1-2-1 zoom calls and sessions with Alpesh.
Over 100,000 people around the world have bought my books and attended my trading courses
This course is complete routemap for creating an online forex trading income. I'm going to show you exactly the strategies I have used to win competitions on Bloomberg TV and Financial Times and how I went from being a private investor like you to running my own hedge fund.
Moreover, this course is constantly updated with bonus material and I will answer your questions in a comprehensive way.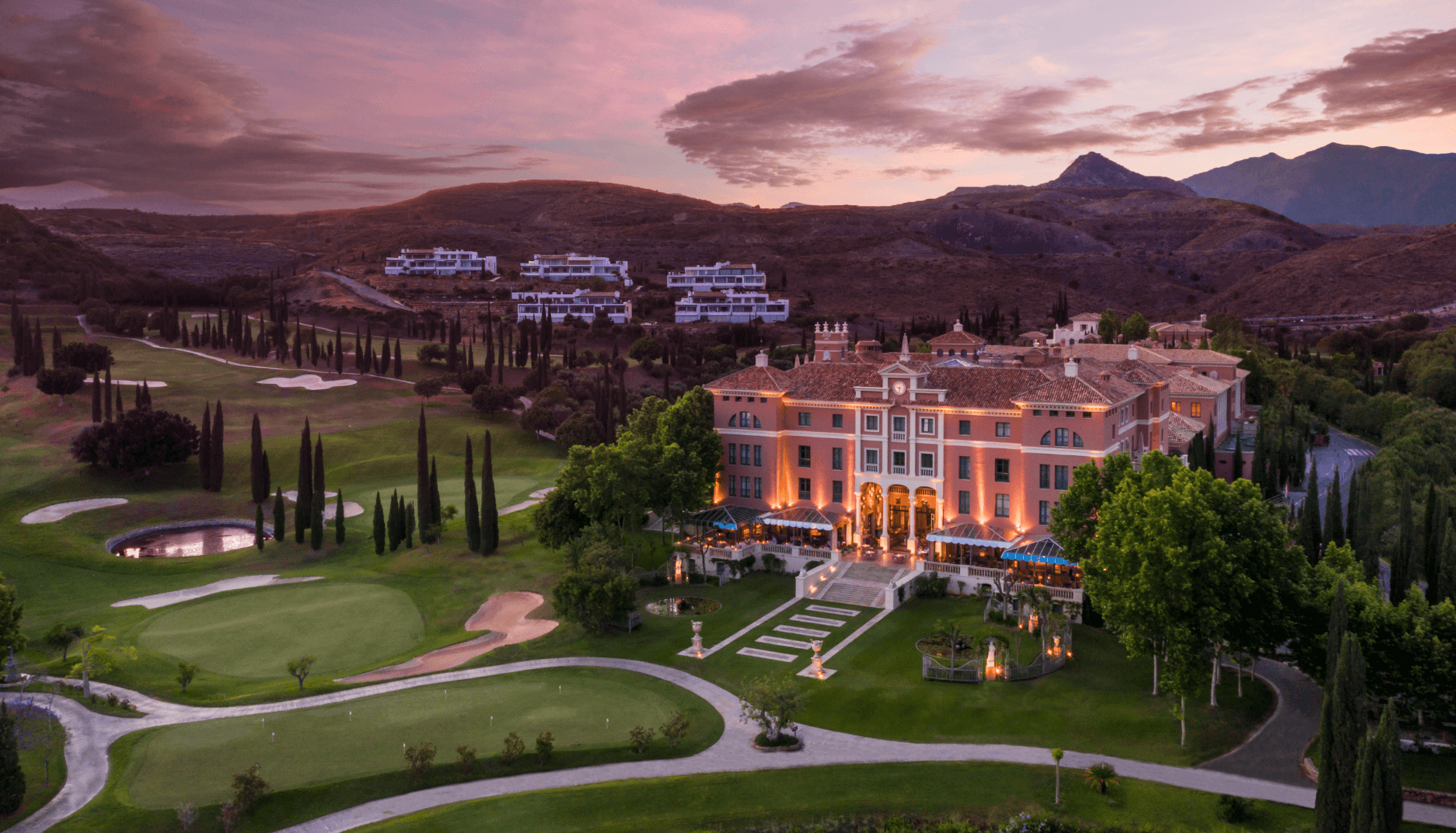 Venue

Nestled in the Golf Valley of the Costa del Sol in the 'golden triangle' of Marbella, Benahavís and Estepona, Anantara Villa Padierna Palace Resort immerses you in Andalusia's spectacular mountain scenery within a stone's throw of stunning Mediterranean beaches.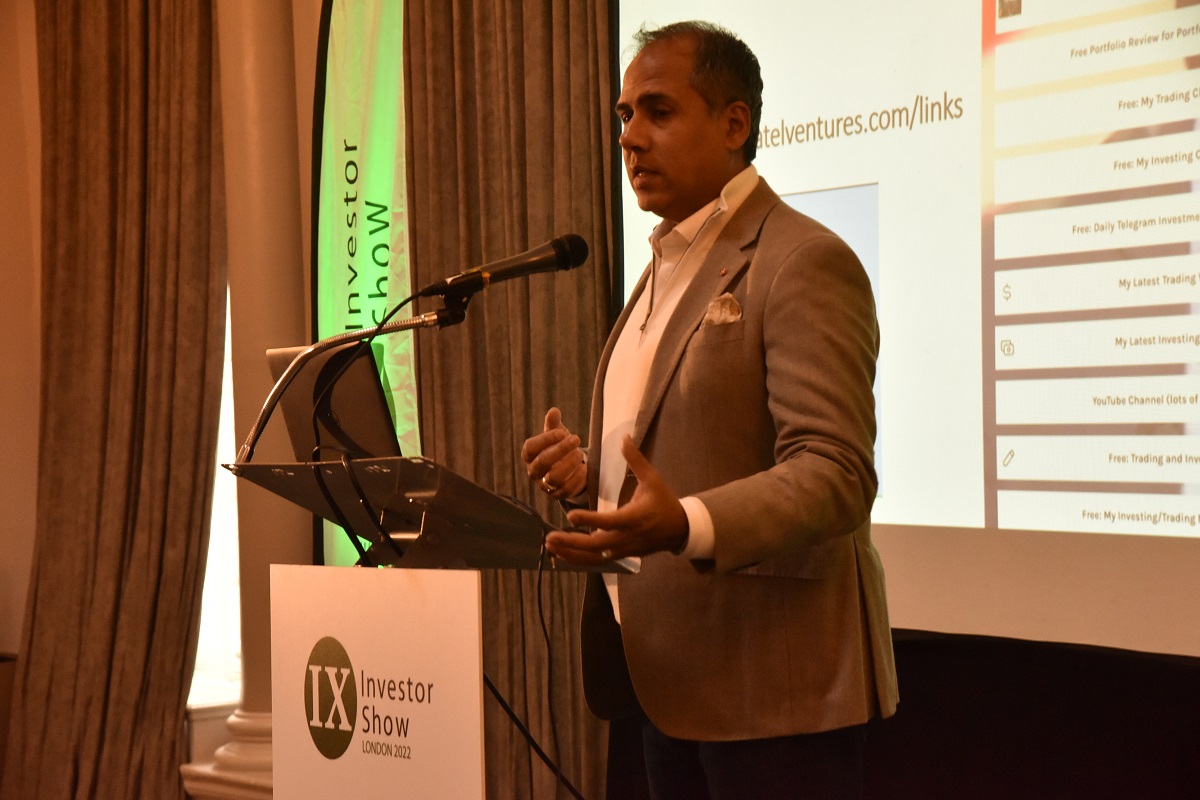 Accommodation

If you require accommodation at the hotel where the event takes place, you will benefit from our special attendee discounted rates. Please contact us for details.
We also have a list of alternative accommodation close by to help you find the right location for you.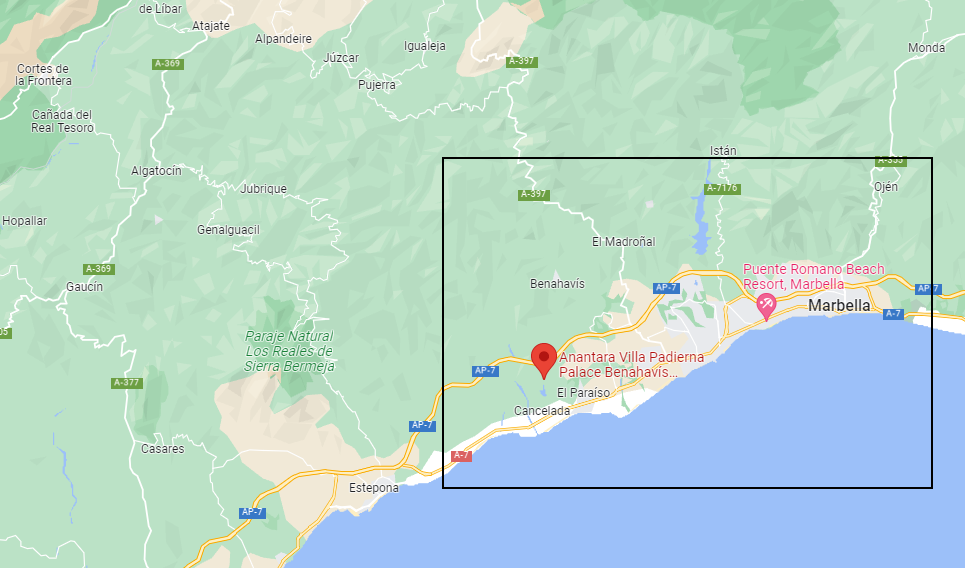 Travel
Fly to either Malaga or Gibraltar Airports and then transfer by car (approx 40 minutes).
If travelling by private car, take the A7 coast road to Cancelada exit between San Pedro and Estepona.

Booking Your Place
Full Price: 2,497 Euros includes:
All materials
Refreshments
Lunch on both days
Single Early Bird Price - save 20% - Pay only 1,997 Euros plus VAT (save 500 Euros!)
Please call Simon Campbell to discuss on +44 20 7193 4540.

Payment can be made by credit card or PayPal (see below) or by bank transfer when you request an invoice.
Some photos from our inaugural event held July 2022.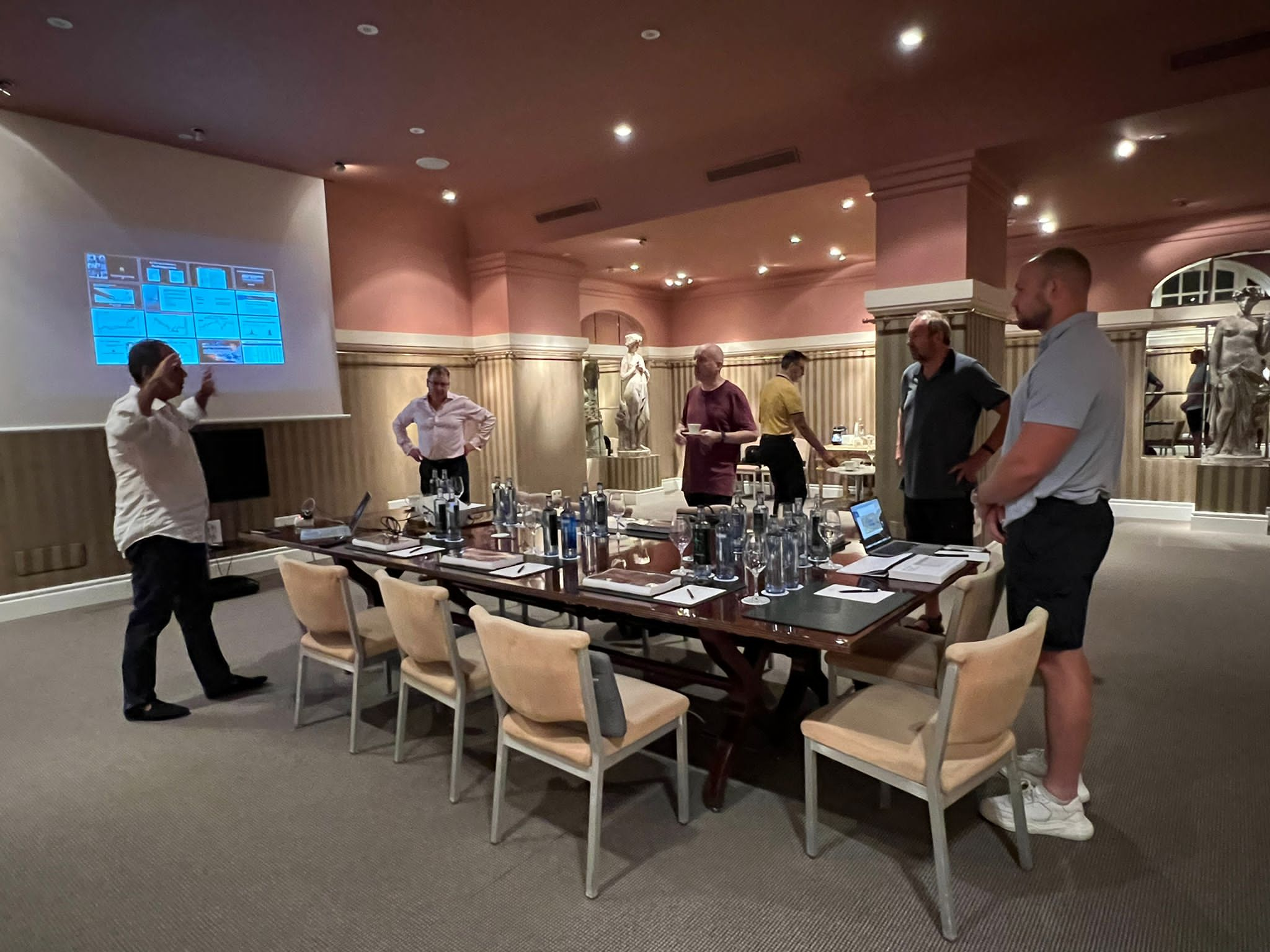 The first morning July 2022


Delegates enjoy coffee break with Alpesh July 2022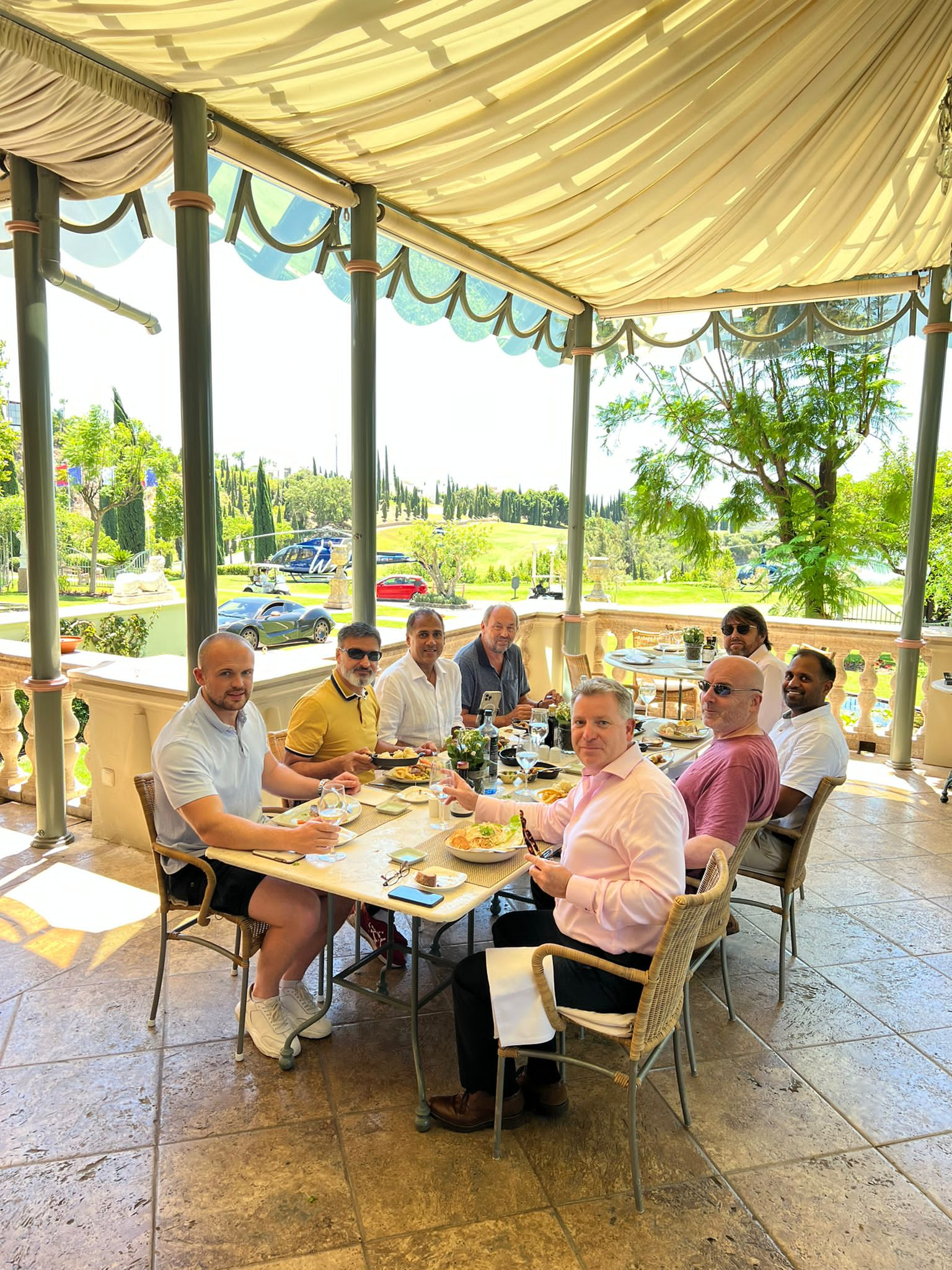 Lunch on the terrace with Alpesh and fellow students (super car and helicopter not ours!)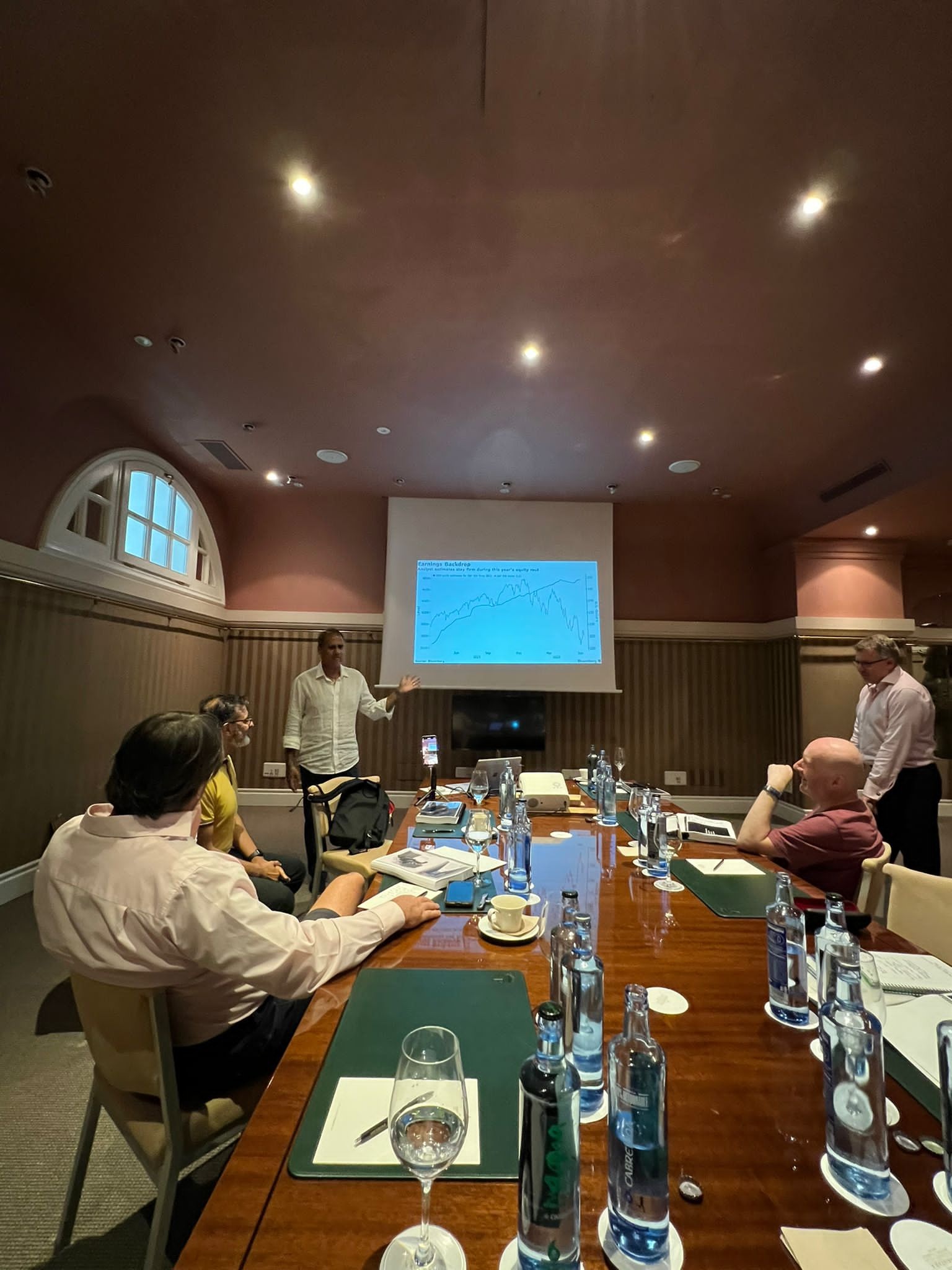 Stock analysis with Alpesh